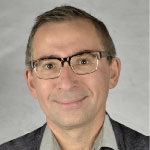 Andrei Kholodnyi
Principal Technologist
Wind River
Andrei Kholodnyi is a Principal Technologist in the office of the CTO where he drives a technology vision in the areas of mobile robotics, intelligent edge, dependability, and TSN.
He has more than 20+ years' experience in embedded software development and served as a Wind River representative in various alliances and standardization bodies – ROS2, AUTOSAR, GENIVI, and PICMG. He is currently a chair of the real-time ROS2 working group and a member of the ROS2 TSC.
Andrei joined company in 2005 and has held roles in various areas, including engineering, services, and automotive, technology office. Prior to joining Wind River, he was a senior staff software engineer at Motorola Computer Group and Force Computers and a research scientist working at various European laboratories, where he developed expertise in complex embedded control and data acquisition systems.
He holds a master degree from Moscow Engineering Physics Institute.